Snipersling Slingshots: S-Hummingbird, Titanium OTT Fork With Adjustable Round Tips
Fork width: 74-89mm

Height: 103mm

Head width: 15mm

Material: Titanium

Weight: 168g

S-Hummingbird, specially designed for those shooters who enjoy tying bands. It is super handy and portable. Made of titanium, lightweight and durable. The best feature of it is it has adjustable tips, the width range is from 74m-89mm, perfectly meet the needs of different shooters. Highly recommend!

It is perfect to use with band tying tapes.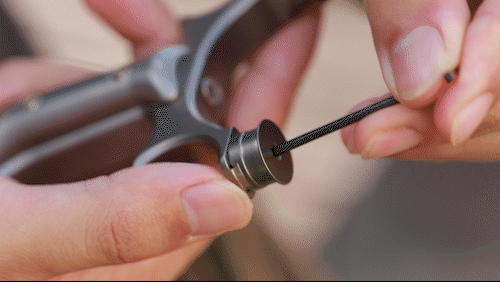 Package includes:

S-Hummingbird: 1 piece

Rubberband: 3 pieces

Slingshot case
Designed for the best shooting experience
Snipersling offers a wide range of high-quality slingshots and related accessories. Our team is made up of slingshot enthusiasts. We've tried hundreds of different slingshots and accessories in the Chinese market, finding the best ones for shooters worldwide. Manufacture our own models with the latest ideas.
By shooters, for shooters. We know what shooters need.
——- Snipersling Team